UPDATE: don't forget to read our newest best WordPress themes post : 40+ Best FREE and Premium WordPress Themes Release on November 2009
Many people like something that complicated. But trust me, behind the simplicity there is the strength exist.
Do not judge book from the cover. I thing sometimes that words is relevant when we going to find best wordpress themes for our blog. Why? You must be know about Thesis? Thesis is old-star WordPress theme, and till now become one of the most popular WordPress theme.
The reason why Thesis become very popular is Thesis have very powerful usability on support blog performance. They give fully power to control every single element from the theme. That's why you can't ignore the Power of simplicity.
If you find clean and simple WordPress themes, here we make a list to help you easier to found the top suit simple wordpress themes for your blog. Enjoying the ride! (please be patient to wait when the post load, some screenshot is involve on it
)
Frugal WordPress Theme
"Your Awesome Content Need frugal Theme"
I will not hesitate with this. frugal WordPress theme is perfect theme for your blog if you want to appear clean and invites visitors to focus on the content you have. I can say that the frugal wordpress themes combine simplicity with the complexity of functions that can work on your blog.
Access all part of theme you want to change, modify, and make it perfect. Modify font, size, logo, sidebar placing, and all the things just from single control panel (click here to take a look) : Powerful control panel that can be working even with someone newbie on WordPress.
For WordPress Noobs that do not want their blog looks unprofessional and misperception frugal is the best.
WPUnlimited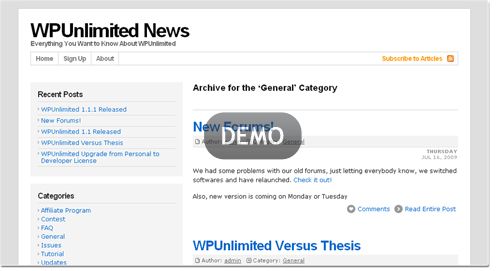 "Simple WordPress Theme that help to earn Unlimited experience"
Simplicity is does not mean limited. There are many limitations that you have when blogging. There are many things that need support from outside plugin when you want to optimize your wordpress blog. Let me tell you the truth: add and manage ton of plugin is hurts. WPUnlimited is out the box wordpress theme: Make it simply and bring the function in! Minimize out-box plugin.
Each update is done on an ongoing basis to continually improve the functionality of your wordpress blog. To make money blogger, WPUnlimited work best. Adsense, Search engine, manage color Scheme, all that you want to get by optimizing simple wordpress theme are here.
ArtSee WordPress Theme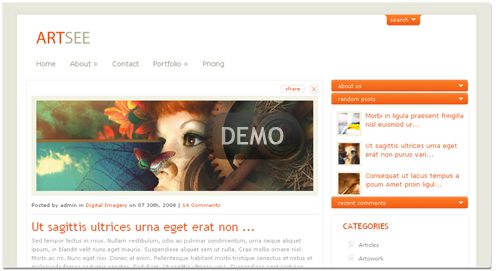 "the art of simple wordpress theme"
'Clean blog doesn't not use image on their content'. Nope! Not really. This WordPress theme is for bloggers whose believe that great image can support your massage to your visitor. Some bloggers love to add picture to their blog post. There is one awesome image can represent hundred words.
The art blogger or just someone who want to display relevant image strongly-related and support their content then they must try ArtSee WordPress Theme. The sidebar drop -down style is lovely. Visitors can also close the images, really simple theme with cool function that working.
BloggingStream WordPress Theme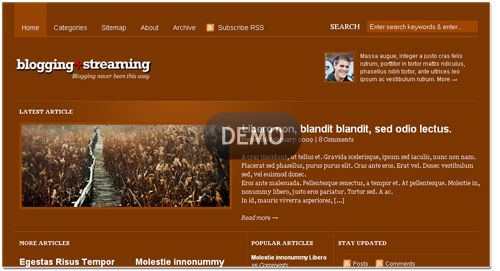 "Wordpress Theme for Professional Purpose"
If you are superb writaholic, always explore your writing skill, working hardly to build your personal brand and expertise. And you don't want to lack your focus on writing: BloggingStream WordPress theme is what you need. If you imagine about clean personal WordPress theme, then you might want to build your personal-brand, BloggingStream is the answer. On many other themes, you see a lot of tabs, featured section, the sidebar you should manage hardly. With BloggingStream you take it without jet lag.
WordPress theme that simple, usable, and visitor-oriented for personal branding builder. With the white background makes BloggingStream very clean professional-looks.  This theme have superb control panel; helping you to manage BloggingStream becomes the simply to manage theme with powerful function.
RichBIZ WordPress Theme

"Your blog theme is represent your business"
You're not going to make your visitor impress on your blog theme when you want to offer your product: so keep it simple! But, you're not really need to looks unworthy and amateurs. RichBiz is wordpress theme to make your products and services present online in clean style. RichBiz WordPress Theme is easy to install and maintain. It's time to presenting your product online professionally just on minutes.
You know the potential advantage comes with presenting your products and services online, so do not take a wrong ways to appear online. Looks professional is not to good to be true even for just a small businesses.
The Station WordPress Theme

"save your money, we are on 2009 now…"
WordPress theme for small business owners. Using your site featured content to display your simple company profile. The Station WordPress Theme is created with one purpose: Help you to sale your product and service. Wasting time to find site template? build your company site? or tired to spend a lot of money to pay web-designer? you should quit now.
Build a professional company site is not really hard like ten years ago. Now we can use wordpress as CMS (content management system) integrated with blog on same theme: No more money spend, no more misunderstanding communication with designer that only know graphic design and not the company purpose to increase their profit and sale. Build a company site and blog on one domain, one-times installing theme and that's enough, you're done! Every smart-businessman simplifies their job
Magazine WordPress Theme

"Publish your content like pro-publisher"
Clean wordpress magazine theme. Show up your writing skill; make it appear beauty on clean blog. WordPress  magazine theme is not always containing multi-colors on design. It's up to you, you can make your magazine theme style clean. The featured post on Magazine theme is slide smooth and elegants. Showing image linked to your blog post.
This theme is for publisher who wants to publish their content on different style magazine wordpress theme. Clean, great-structured, professionally and stop misrepresent and looks messy.
I hope you can found the best wordpress themes for your blog.
Happy blogging
---
What Next?
---